Christine DeYoung
Biography
I'm a former high school teacher, marathon runner, and beauty queen. Presently, I'm a stay-at-home mom, couch potato, and aspiring writer. I taught high school science for 17 years, but now I'm putting all that knowledge plus some into writing books that I hope you will enjoy. I have three kids who are 16, 13, and 12 years old. They are the loves of my life along with my supportive husband and two lazy dogs (a Cocker Spaniel named Comet and a Chihuahua named Peanut). When I'm not driving kids from one activity to another, I'm either reading in order to learn something new or coming up with new story ideas. I live in North Texas but dream of living in the mountains somewhere where the weather is cool and I can look at the beautiful trees and listen to the birds sing while I read and write. I'm a spiritualist seeking enlightenment. I believe anything is possible and that we are all on a journey to learn and grow in order to reach our ultimate fulfillment.
Where to find Christine DeYoung online
Books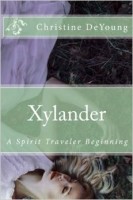 Xylander: A Spirit Traveler Beginning
by

Christine DeYoung
Charlotte has an out-of-body experience but in the body of an Osage Indian girl who lived 200 years in the past. What is she supposed to do and why is this happening? Should she stay in the past with her new husband or live in her present where a handsome new guy has just entered her life?
Christine DeYoung's tag cloud