Queen Of The Nile
Biography
I am not the same being everyday. If I had to do it all over again----I would forget about possibly whiplashing others, especially coworkers----and, just jump out there, being myself.
***~~~***
Escape from slavery on a plantation that nobody has ever heard of was my all-consuming modus operandi at age 5. Yes! Marking off the days for 13 years, on any calendar that I could steal, gave me "purpose." I escaped----mentored by Mrs. Johnson----who engineered 9 academic university scholarships for me. Nothing has changed there----except the traffic signals!
***~~~***
Also at age 5----I decided never to allow anyone to apologize for cruel deeds, which they demonstrate deliberate intent.
***~~~***
I learned wolf tickets from Mohammad Ali my freshman year @ LU. He was then the heavyweight world champion. He could back it up. So can I.
***~~~***
I envision just sitting by the stream near my teepee----sunning, the mountains smiling & cute little birds singing their favorite songs----
***~~~***
For obvious considerations----queen of the nile resides in a parallel universe. Other rules apply. When the travel portal to other universes materializes and the reality of the magnitude of possibilities flashes my medulla----I shall step through without a backward glance, like the Maya----alerting no one. Yes, baby!
Books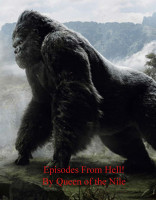 Episodes From Hell!
by

Queen Of The Nile
Episodes From Hell! will not drain your warp engines----or bore the living daylights out of you. Not for all tastes----most definitely for some tastes. That high voltage elixir of life----dark humor. Superlative honesty, lightning bolts of riveting stupidity. Mickey Mouse jealous people, greed, monstrous egos, violent propensities & flaming idiots!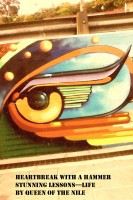 Heartbreak With A Hammer
by

Queen Of The Nile
Do you learn from other people's roaring mistakes----Or, do you have to make them all your own self? Nobody in their right mind would dare to publish such radioactive lessons & appalling, introspective, quicksilver closet secrets! Powered & excellent for individual minds. There----I've gone & done it. Expect the unexpected. See for yourself!
Queen Of The Nile's tag cloud