Yvette Cantu Schneider
Biography
Yvette Cantu Schneider is a writer and public speaker. She has appeared on several national TV shows, including The O'Reilly Factor, Religion & Ethics Newsweekly, PBS's Debates Debates, and The Crier Report. She has spoken on college campuses across the country, at various conferences, and before state and national legislatures. Her articles have appeared in major newspapers.
Books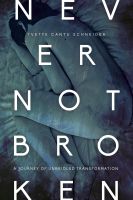 Never Not Broken
by

Yvette Cantu Schneider
In Never Not Broken, Yvette Cantu Schneider descends into the abyss of her own psyche after her young daughter's leukemia diagnosis. She sees a psychotherapist who introduces her to guided imagery to heal trauma. Over the course of her daughter's 28-month treatment, she discovers that it is the wounded feminine within her that helps her find meaning and acceptance.
Yvette Cantu Schneider's tag cloud