Ryan Coons
Biography
Ryan Coons graduated from Edinboro University of Pennsylvania in 2004 with a B.S. in physics, and then went on to earn M.S. degrees in both physics (Miami University, 2006) and nuclear engineering (Purdue University, 2010). He holds the rank of sandan (3rd-degree black belt) in Goshin-Jutsu Karatedo, an obscure martial art that he is currently writing a series of manuals about. Coons had also previously studied aikido, kendo, judo, Shuri-ryu karatedo, and Wu-style t'ai chi ch'uan. Ryan Coons currently lives in Madison, AL.
Where to find Ryan Coons online
Books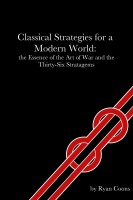 Classical Strategies for a Modern World: the Essence of the Art of War and the Thirty-Six Stratagems
by

Ryan Coons
This bold re-imagining of Sun-tzu's masterwork of strategic planning and conflict analysis has taken the esoteric aphorisms of the original and reworked them into a lively, easy-to-read English prose. Conflict itself is discussed in an abstract, generalized way to allow for the direct application of proven approaches to a variety of fields, including business, sports, and social activism.
Ryan Coons' tag cloud