Shawn Shelton-Zieger
Biography
I am a budding author who loves his craft and wishes only to improve it. I want my fiction to entertain and maybe make you think. Not that I'm pretentious. I have no illusions that I'm the next Thomas Pynchon (but that might be cool). My day job is a Private Investigator. In between cases I write and also narrate audiobooks. I find the horror genre fascinating because it deals with the psychology of fear, something I deal with daily having been diagnosed with generalized anxiety disorder. That and I'm terrified of spiders. I try to pump my fear into my work. I have a lot of that to work with and I only hope to get better at it. There is never perfection in art, we can only approach it asymptotically. That said, I can measure what is successful in a work and what isn't. If it entertains the reader, then it is successful even if the quality of the work is awful. Many pulp authors are revered for their creations but were not all that great in certain areas of the craft. Lovecraft, for instance, was not the sharpest knife in the drawer when it came to dialogue, yet I can read his stories over and over and over again.
Books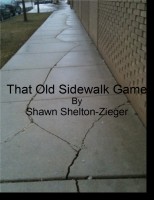 That Old Sidewalk Game
by

Shawn Shelton-Zieger
Price:
$0.99 USD.
Words: 4,970.
Language: American English.
Published: August 3, 2014
. Categories:
Fiction
»
Horror
»
Weird fiction
What if that old sidewalk game were real? George Grant is about to find out.
Shawn Shelton-Zieger's tag cloud