Lorraine Muhammad
Biography
I am over 40 years of age. I've been married to my husband for nearly 17 years. During those 17 years, we've been blessed with 6 beautiful children.



In addition to being a wife and mother, I am a full-time Manager in an Information Technology Departmnet, a teacher of our children, and a community volunteer.



I am active in the Nation of Islam and have served as a mentor to our community youth via the Boys & Girls Club – Bloomington/Normal®, and Mentoring and Providing Scholarships (M.A.P.S.)® for high school seniors. Additionally, I am a member of Alpha Kappa Alpha Sorority, Incorporated® and Jack and Jill of America Incorporated®.



I truly enjoy time with my family, children, and friends, although time doesn't always permit me to do all I want and need to get accomplished. Occasionally, I might find a minute or two to spend some time with myself and obtain some quiet time. Like I said, occasionally!



You may ask, "How did she find the time to start and stay on my weight loss
journey?" Simple…I MADE the time!



In the midst of my journey, Allah (God) put it on my heart to share my experience with others who are also struggling with the journey toward better health.



I authored my first book entitled 588 Days! Balancing Act of Faith, Family, & Finding Time for ME. It is my prayer something I've experienced on my own journey would benefit and inspire others on their pursuit toward better health.
Videos
Lorraine Muhammad - 588Days! Video Tidbit - Support System on a Weight Loss Journey
Are you trying to lose weight but are having trouble staying motivated and inspired? Have you been on a weight loss program before but just can't stick with it? You are NOT alone! I've been right there where you are. Grab a friend, family member or co-worker. Go for a walk, jog, or do something. Visit www.findtimeforyou.com or www.findtimeforyou.blogspot.com
Books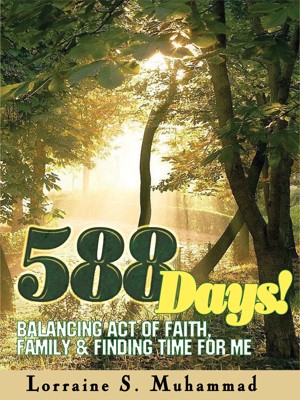 588 Days! Balancing Act of Faith, Family, & Finding Time for ME
by

Lorraine Muhammad
This book is a testimonial of Lorraine S. Muhammad's emotional, physical, and spiritual journey toward better health. Lorraine details her journey to lose weight and go from 204 lbs to 140 lbs. As a wife, mother, Manager, and community volunteer, Lorraine was determined to improve her emotional, mental, physical, and spiritual health in order to life a longer life with her family.
Lorraine Muhammad's tag cloud