ZaraJ
Biography
ZARA JAMIESON was born in Canada and raised in California. Although her career has always been in the corporate sector, Jamieson has held a fond love for writing since secondary school. After experiencing a series of challenges and setbacks that taught her valuable lessons in life, she immersed herself in her love for writing as both a form of therapy and to pass on critical lessons about life, love, and relationships with God and man to others. Hide & Seek is her first literary work and memoir. Jamieson, the proud mother of two beautiful daughters, lives her life focused on nurturing her faith, building a healthy family, and enjoying life with friends.
Where to buy in print
Books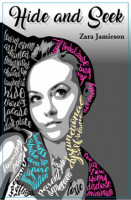 Hide and Seek
by

ZaraJ
Hide and Seek is a cautionary tale about what can happen when we ignore the warning signs that God places in our path and choose our own desires over His. Prepare to be captivated by this memoir of how one woman experienced God's redemption, restoration, forgiveness, and unconditional love after allowing her selfish desires to lead her down a path toward what seemed like inevitable destruction!
ZaraJ's tag cloud