Zoe E. Carbajales
Biography
Zoe E. Carbajales is a fantasy novelist earning her BFA with Full Sail University. She has two short stories published, "The Magic Harp," with Golden Age Presents and "Autumn Memory." also with Golden Age Presents. They were published in 1995 and 1996 respectfully. She volunteered with an animal shelter and owns four companion animals herself. She does not tolerate domestic violence and animal and child abuse. She is quite passionate about crocheting, needle tatting and writing.
Where to find Zoe E. Carbajales online
Books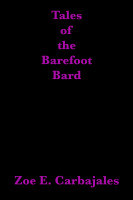 Tales of the Barefoot Bard
by

Zoe E. Carbajales
Tales of the Barefoot Bard by Zoe E. Carbajales is a collection of fantasy stories connected to her fantasy series THE DRAGON HARPER. They are glimpses into the life of the princess bard, Faediira Tebryr'Daersharra, with family and friends. These are her mini-adventures before she sets out on her grander quests.
Zoe E. Carbajales' tag cloud