Juan Carlos Argento
Luego de graduarse como perito comercial, y haber trabajado en bancos y entidades financieras sintió curiosidad por introducirse en el mundo de las ventas. Desde temprana edad comenzó su actividad en una empresa farmacéutica multinacional, primera en ventas en el ranking mundial, donde adquirió profundos conocimientos sobre la industria y se formó como vendedor profesional, gracias al sistema de entrenamiento personalizado que la compañía impartía a todos sus integrantes. Después de 10 años de permanencia, logrando las metas propuestas, decidió realizar un emprendimiento personal, creando su propia empresa, y 3 años más tarde creó otra paralela, desarrollándolas y manteniéndolas durante 15 años, en un mercado inestable . Las condiciones jurídicas del país se fueron deteriorando en forma continua, creando situaciones de inseguridad que afectaron a toda la sociedad. Esto ocasionó que luego de soportar un secuestro y varios robos violentos, agobiado por luchar contra la corrupción, decidió desprenderse de todos sus bienes materiales y luego de 48 años de permanencia en aquel país, emigró con 4 maletas y el coraje de enfrentar un desafío, quizá el más grande de su vida., que fue el de comenzar nuevamente en lo que sería su futuro hogar, España. Hoy con su autoestima intacta y con una paz interior que solo se consigue viviendo en un país que respeta los derechos de sus ciudadanos y permitiendo así realizar lo que uno siente y quiere, escribe este libro con el propósito de trasladar lo que en su momento recibió, una educación que cambio el sentido de su vida y le permitió desafiarse a si mismo.
Hoy Salgo Hoy Vendo
Contenido del libro Hoy Salgo Hoy Vendo, Técnicas de ventas, arte de preguntar y descripción de una venta aplicable en cualquier lugar del mundo.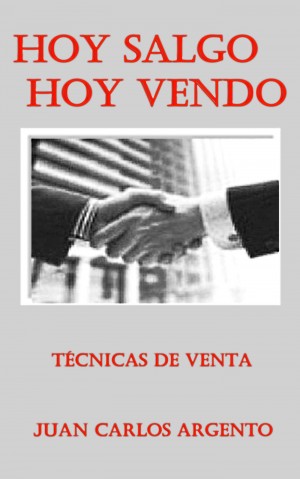 Hoy Salgo Hoy Vendo
by

Juan Carlos Argento
The purpose of this book is to explain the steps necessary to sell any type of product. It is gratifying to master these simple techniques, which effectively applied, leads us to achieve goals not only in the sale, also in interpersonal relationships, as we facilitate communication with our neighbors.