A. A. Khayyat
Biography
A. A. Khayyat is a short story writer. Focusing on science fiction, fantasy and slipstream, his work has appeared in online publications. His flash fiction stories, "What Good Is Arithmetic?", "A Pulse In Oblivion," "A Dance by the Lake," and the short story, "Do You Wish To Proceed?" have been published by Bewildering Stories. His fourth flash fiction piece, "Alchemy," is slated for publication in the Story Shack in 2018.
He can be reached at maj889@gmail.com or through Linkedin.
Books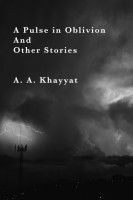 A Pulse In Oblivion, and Other Stories
by

A. A. Khayyat
A PULSE IN OBLIVION AND OTHER STORIES is a collection of slipstream and drama stories, utilizing a shared theme of finding comfort in times of great adversity. Blending drama, science fiction and fantasy into a single mix allows for a greater range in expressing emotions.
A. A. Khayyat's tag cloud