Robert F. Abbott
Biography
Robert F. Abbott is a veteran writer and publisher who specializes in business communication. He is the author of A Manager's Guide to Newsletters: Communicating for Results (Word Engines Press, 2000) and has written numerous booklets and articles that appeared in his weekly online newsletter, Abbott's Communication Letter, between 2000 and 2006. Earlier, he operated The Newsletter Company, which wrote and published custom newsletters for companies in a number of different industries. In addition, he's been a radio news writer and announcer, a farmer, and a construction worker. He lives in Airdrie, Alberta, Canada and actively participates in the management and operations of non-profit organizations.
Books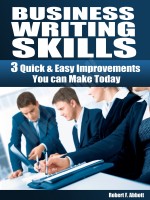 Business Writing Skills: 3 Quick & Easy ImprovementsYou can Make Today
by

Robert F. Abbott
Make your messages easier to read, more persuasive, and more effective. In less than an hour, you'll learn three quick and easy techniques that will improve your writing today. Your letters, memos, and email messages will stand a much better chance of being read, being understood, and getting results. Increase the odds readers will think or behave the way you ask.
Robert F. Abbott's tag cloud