Abdullah Suwaydî
Biography
[The book HUJAJ-I-QAT'IYYA was written in the Arabic language by Abulberekât Abdullah Suwaydî of Baghdâd. It was printed in Egypt in 1323 [A.D. 1905], and reproduced by offset process in Istanbul. Its Turkish translation, by Allâma Yûsuf Suwaydî, was printed in the Kurdistan printhouse in Egypt in 1326 [A.D. 1908]. Suwaydî Abdullah Efendi was born in Baghdâd in 1104. After performing his duty of hajj in 1137, he was given an ijâzat (certificate, diploma) from Abdulghanî Nablusî [1050-1143] (A.D. 1730) Damascus], and another ijâzat by Alî Efendi of Istanbul [1099-1149]. He taught for years in Baghdâd. He wrote many valuable books. His thirtieth grandfather is Abû Ja'fer Abdullah Mensûr, one of the Abbâsî Khalîfas. Nâdir Shâh [1099-1160 (A.D. 1746)], an Iranian ruler, convoked the scholars of Iran and Bukhara and commanded them to discuss and come to a bilateral conclusion on which one of the Sunnî and Shi'î groups was right, and they appointed him as president of the debate. The book HUJAJ-I-QAT'IYYA, which gives an account of the talks made in this assembly, is very valuable. After a long discussion with the Shiite scholars in this assembly, he (Abdullah Suwaydî) proved that the Sunnîs were right. The Shâh liked this and congratulated him. He passed away on the eleventh day, Saturday, of (the Arabic month) Shawwâl in 1174 [A.D. 1760]. He was buried near the tomb of Hadrat Ma'rûf-i-Kerhî 'rahmatullâhi aleyh', who had passed away in 200 [A.D. 815].
Books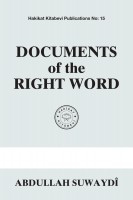 Documents of the Right Word
by

Abdullah Suwaydî
(5.00)
A collection of small books written by Sunni scholars for answering Shi'a claims.
Abdullah Suwaydî's tag cloud