Parker Pascal
Biography
I'm Parker Pascal, and I write erotic fiction which is sometimes quick and dirty, other times a slow burn, and once in a while imbued with a message. A message? Well, why not! Erotica is art, and the purpose of art is to elevate the soul. So I deliver characters, as real as I can make them, living out their fantasies and fears, as raw as I can deliver them. Nothing turns me on more than a story of self-discovery in which someone is tempted by an opportunity to do something he or she has only thought about ... while lying quietly in bed at night ... alone. Every person, no matter how conservative or shy or prudish he or she might seem, has secret desires. Every person has a button that can be pushed which, in just the right circumstances, will drive him toward making those desires come alive. I want to find those buttons. Heck, I want to find YOUR buttons. (Has anyone seen my button?)

What else matters about me? They say you're either a Beatles guy or an Elvis guy. I'm a Beatles guy. I dig dogs, cooking, movies, and my sexy wife. And reading, of course. I'm into horror, suspense, true crime, political history, scifi/fantasy, and good erotica (the world needs more of the latter, don't you think?).

I love hearing from readers. Drop me a line at parker@packhousemedia.com.
Books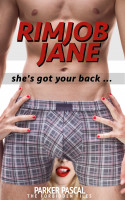 Rimjob Jane
by

Parker Pascal
A married woman is haunted by memories from her college days, a time when she indulged in forbidden pleasures. As she struggles to reconcile her past with her present, she reminisces on how she briefly transformed from "Plain Jane" to "Rimjob Jane."
Parker Pascal's tag cloud