David Christmas
Biography
Born in UK 1936, Officer Royal Navy 1953 till 1967 when emigrated to New Zealand. High School teacher then church pastor. Moved Australia 1995 and retired. Human rights work in S.E.Asia. Currently running charity for Zambian orphans, visiting them most years. Married 50 years. 3 girls and 5 granddaughters.
Books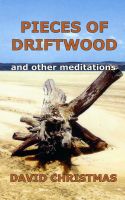 Pieces of Driftwood and other meditations
by

David Christmas
(5.00)
What does driftwood suggest to you? What did Peter think after he had betrayed Jesus? Why is Jesus The Amen? This is a collection of poetry and prose meditations inspired by scripture and written over forty years. Some are humourous, some theological, some challenging. They may be read just for enjoyment or as a basis for your own meditations.
David Christmas's tag cloud
Smashwords book reviews by David Christmas