A. C. Crispin
Publisher info
A.C. Crispin is the author of the bestselling Star Wars novels The Paradise Snare, The Hutt Gambit, and Rebel Dawn. She's also written four top-selling Star Trek novels: Yesterday's Son, Time for Yesterday, The Eyes of the Beholders and Sarek.

Ms. Crispin's most famous genre work was writing the 1984 novelization of the television miniseries V. She went on to collaborate on two more books in the V series, East Coast Crisis with Howard Weinstein, and Death Tide with Deborah Marshall.

Crispin and noted fantasy author Andre Norton wrote two Witch World novels together. Both Gryphon's Eyrie and Songsmith are still in print from Tor Books. Andre Norton's recent passing has brought increasing demand for her works. Ann Crispin and Andre Norton were friends for nearly 30 years. Ms. Norton was the first woman to be declared a Grand Master in the field of science fiction and fantasy by Science Fiction and Fantasy Writers of America (SFWA).

A.C. Crispin has been active in SFWA since soon after joining the organization in 1983. She served as Eastern Regional Director for almost 10 years, and then served as Vice President for two terms. Ms. Crispin and Victoria Strauss created SFWA's "scam watchdog" committee, Writer Beware, in 1998. Crispin still serves as the Chair. Writer Beware is the only professionally sponsored group that warns aspiring writers about the numerous scam agents and publishers that infest the internet these days. Crispin and Strauss have assisted law enforcement in bringing several infamous con artists to justice.

Ms. Crispin has not confined herself to writing media-related fiction. Half her work is in her own original universes. Her major science fiction undertaking was the StarBridge series for Berkley/Putnam. These books, written solo or in collaboration with gifted new talents, centered around a school for young diplomats, translators and explorers, both alien and human, located on an asteroid far from Earth. Series titles are: StarBridge, Silent Dances, Shadow World, Serpent's Gift, Silent Songs, Voices of Chaos, and Ancestor's World.

StarBridge Book One was placed on the American Library Association's Young Adult Services Division's list of Best Books of 1991, and Silent Dances (Book Two, co-authored with Kathleen O'Malley) made the 1991 Preliminary ballot for the Nebula, the award given by the Science-fiction and Fantasy Writers of America. Serpent's Gift (Book Four, with Deborah A. Marshall) was placed on the 1993 Recommended Books for the Teen Age by the New York Public Library. Book Five, Silent Songs (also written with Kathleen O'Malley) was nominated for the A.L.A Young Adults "Best Books" list.

A.C. Crispin's newest work is an original fantasy trilogy for Harper/Eos, The Exiles of Boq'urain. Storms of Destiny will be released August 2005, and she is hard at work on Book 2, Winds of Vengeance. Book 3, Flames of Chaos, will be her next project.

Ms. Crispin has taught many writing workshops since becoming a full time professional in 1983. Her teaching credits include a semester-long "Writing for Profit" course at Charles County Community College, two two-day writing workshops for Harrisburg Area Community College, a two-day writing seminar at Towson State University, and numerous mini-workshops at science-fiction and Star Trek conventions, where she is a frequent guest. She currently teaches writing workshops at Anne Arundel Community College and Dragoncon in Atlanta.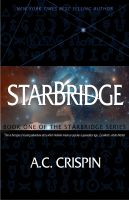 StarBridge (StarBridge #1)
by

A.C. Crispin
(4.00)
We are not alone, and we're about to meet our neighbors After more than a hundred years of space travel, a stray radio signal indicates the possibility that alien life might exist. Can the bond formed between two very different friends be strong enough to bridge their differences and save their people?
A. C. Crispin's tag cloud