Ahmed Achrati
Biography
Ahmed Achrati graduated from Law school in Algeria, and received his Master's degree from the School of Law at New York University, and a Ph.D. in International Relations from the University of Pennsylvania. He has since taught various subjects in the United States and abroad, including, Law, International Relations, Arabic, Islamic Studies, Pre-Islamic North Africa, and Pre-Historic Rock Art. Currently, he is an adjunct faculty in the Anthropology Department at Howard Community College, Columbia, MD. His publications cover a wide range of topics, including, art, anthropology, and religion.
Books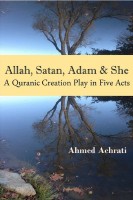 Allah, Satan, Adam & She. A Qur'anic Creation Play in Five Acts
by

Ahmed Achrati
Ahmed Achrati is a scholar of Islamic philosophy and ancient cultures. He teaches at Howard Community College in Columbia, MD.
Ahmed Achrati's tag cloud