A.C. Weston
Biography
A.C. Weston wrote her first book at the age of seven and hasn't stopped writing since. She grasped onto characters like Meg Murry, Matilda, Princess Leia, and Ellen Ripley at a young age as she learned to navigate the realities of life through the wonder of stories, and lately characters like Furiosa and Rey have also captured her heart. She spends her days supporting the public health of Minnesotans at the MN Department of Health and her evenings writing and doing freelance art. She is very introverted, which is not the same as being shy. She lives in St. Paul, MN with three brilliant little monster children and one beloved husband.
Where to find A.C. Weston online
Books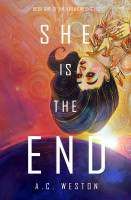 She Is the End
by

A.C. Weston
Someone is ruling in Relai Aydor's name, pushing the galaxy toward war, and they're killing anyone who resists—people like Milo Hemm's family. Of all those harmed by the false queen, Milo is the only one who manages to track Relai down to Earth... He won't be the only one to nearly kill her.
A.C. Weston's tag cloud