Adi Khan
Biography
Adi's writing inspiration comes from being a seeker of wonder, thrill, optimism, elation, and happiness. Adi's writing style is abstract, and he seems to think that relatively mundane things in nature such as rocks, grass, walls, and floors have emotions and that they have plenty to say. His books are a departure from conventional style in that they may not always follow a set path or pattern and along the way the reader may be encouraged, forced even to participate in the story. He feels that this makes better reading as his books encourage the reader to think.

In a simulated life somewhere on a remote planet in the Milky Way galaxy, Adi is disguised as an academic having completed a Doctorate in Leadership and Behavioral Psychology. In this role, he vigorously pursues research in emotional intelligence, happiness and well being in life.
Books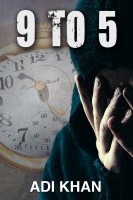 9 to 5
by

Adi Khan
"9 to 5 is the journey of a young man for half a day as he attempts to discover the source of a headache accompanied by a barrage of complex and seemingly insane thoughts. Confused, he staggers from one place to the next, discovering people, places and buried memories until he arrives back in his apartment where he stumbles upon his nemesis and the author of his delusions."
The Virgin Sky
by

Adi Khan
The Virgin Sky is the story of Sarah, a girl who arrives in America to learn how to fly, and in the process discovers, her love, herself and the meaning of life. The book is a journey of her encounters with people, places, and objects with each chapter revealing shades of love, mystery and tragedy.
Adi Khan's tag cloud