Ahmed Elnakouri
Ahmed Elnakouri was born and grew up in Alexandria, Egypt. In 1996, he immigrated with his family to Canada to settle in London, Ontario. In 2002, he moved to Ottawa and resides here presently. He holds a university degree (B.Sc.) in Political Science from Cairo University; in 2001, he obtained proof of Canadian Equivalency of that degree from York University in Toronto, Canada. Also he successfully obtained an Honours Diploma in Banking from Westervelt College in London, Ontario.

In addition to his academic credentials, he was born and grew up in the heart of a region soaked to the bone with wars, enmity, and bleak hostility which enabled him to be fully perceptive and aware of the subject. So you may consider this book as a demonstration of a lifetime—over 40 years—of day-to-day, "live" experience. Elnakouri formerly worked as an employee with the Bank of Alexandria and Royal Bank of Canada, and he currently works as a commissionaire with Commissionaires Ottawa.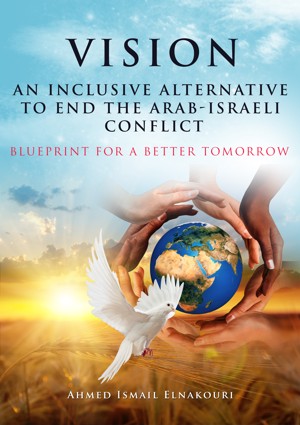 Vision An Inclusive Alternative to End the Arab-Israeli Conflict
by

Ahmed Elnakouri
After proving that both two- and one-state solutions are no longer viable for resolving the Israeli-Palestinian conflict, the settlement presented in this book employs a genuinely fresh approach and is derived from a completely different paradigm than that of the tired mainstream solution currently considered as the only acceptable path for resolving the conflict...