Shannon M. Finnie
Biography
When I was a child I loved the thought of living in a world of Make-Believe. I would pretend that gumdrops were precious gems and broccoli were enchanted trees. Today as an adult I still find ways to escape the realities of life. I do this by playing video games, writing fiction, or by simply daydreaming. I enjoy writing because it allows my imagination to run to it's full capacity, giving me an unconditional outlet.
Books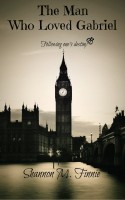 The Man Who Loved Gabriel
by

Shannon M. Finnie
Meet Gabriel Bartoletti, a passionate aspiring writer who lives in a small town located in the heart of Massachusetts. He has always wanted to visit London to see all of the historical landmarks. He believed he was destined to find true love, but never stepped out on a limb. Now his life is about to change course as he embarks on a journey that will open his heart and change his life forever.
Shannon M. Finnie's tag cloud