Alan Williams
Biography
I self published "Fall From Grace-The John Kirby Story in 1996 and Flow Gently Sweet Rhythm in 2005; both were a huge success and out of print. Both biographies center on the life and career of John Kirby and his gifted orchestra. It's the story of the rise and fall of one of the most unique jazz bands in music history. The John Kirby Orchestra emerged at the height of the swing era and immediately made an impact on the jazz music scene with their huge success recording a swing version of a Scottish ballad "Loch Lomond". They became instant superstars, successfully incorporating classical music and jazz. They were the first orchestra with their own sponsored radio program on CBS in 1940, which ran for two years called "Flow Gently Sweet Rhythm". They played elite spots across America which had never before hosted black orchestras such as The Trocadera in Los Angeles, The Copley Terrance in Boston, The Waldor Astoria in New York and The Ambassidor East in Chicago. They were effectionatly called "The Biggest Little Band in America."
Where to find Alan Williams online
Books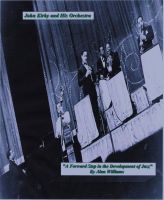 John Kirby and His Orchestra - A Forward Step in The Development of Jazz
By
Alan Williams
Price:
$2.99 USD.
Words: 9,670. Language: English. Published: July 22, 2012. Category: Nonfiction
John Kirby is a jazz icon and a forgotten legend. However, between 1937 and 1942 his orchestra had no equals. Notable accomplishments: gained instant superstardom recording a swing version of the Scottish ballad Loch Lomond in 1937; the first jazz band to sponsored their own radio show on CBS "Flow Gently Sweet Rhythm" in 1940, They were affectionately called - The Biggest Little Band in America.
Alan Williams's tag cloud