Alan Williams
Biography
" A Forward Step in The Development of Jazz" is a revised version of my previous book about John Kirby. "Fall From Grace-The John Kirby Story" was self-published in 1996. It was the first book ever published on Kirby sampling the scattered pieces of Kirby's life and career covering close to a century. It was a huge success and now - out of print. My mother (Kirby's only sibling), his first wife (Mary Moten Kirk), his schoolmates and his music teacher (Professor Powell Gibson) told the remarkable story of his upbringing leading to his departure from Winchester enroute New York City and super stardom. I was born in Winchester, Va., and a graduate of John Handley High School. I earned my Bachelors in Workforce, Education and Development from Southern Illinois University and my Masters of Public Administration at Troy University. I'm a retired Navy Petty Officer and I'm enjoying my second career in law enforcement and law enforcement administration. As a bassist, I study progressive jazz and old school funk. My favorite bass players are John Kirby, Milt Hinton, Stanley Clarke, Verdine White, Victor Wooten, James Alexander, Larry Graham, Louis Johnson, Bootsy Collins, Chris Squire, Giddy Lee and Aaron Mills.
Where to find Alan Williams online
Books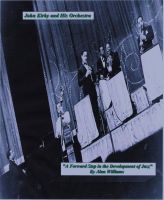 John Kirby and His Orchestra - A Forward Step in The Development of Jazz
by

Alan Williams
John Kirby is a jazz icon and a forgotten legend. However, between 1937 and 1942 his orchestra had no equals. Notable accomplishments: gained instant superstardom recording a swing version of the Scottish ballad Loch Lomond in 1937; the first jazz band to sponsored their own radio show on CBS "Flow Gently Sweet Rhythm" in 1940, They were affectionately called - The Biggest Little Band in America.
Alan Williams' tag cloud