A.G.R. Goff
Biography
A.G.R. Goff is an author who just published her first novel "Layers", a story best described as a mix between thriller, mystery and crime. Inspiration came from watching Alan Rickman, the actor, and being inspired by his ability to just being a brilliant artist without getting drawn into the celebrity circus. Goff grew up in East Germany and has since lived in South Africa and the United Kingdom. She is married to an English man and enjoys British humor and unexpected adventures.
Where to find A.G.R. Goff online
Books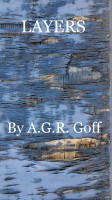 Layers
by

A.G.R. Goff
Letting Miranda into his house is a big mistake. But aging comedian Dave also has some secrets. Maybe she should never have come. She might not like what she will find out. As this story about murder, betrayal and dark desires unfolds, things take an unsuspected turn. Things from the past find their way back to the surface and the dead might not be so dead after all.
A.G.R. Goff's tag cloud