Abraham Joshua Heschel
Biography
Abraham Joshua Heschel (1907-1972) was one of the most celebrated and original Jewish thinkers of the twentieth century. Though renowned in his day as a theologian and philosopher, Heschel is also celebrated today for his tireless activism against the war in Vietnam and his work for civil rights with Dr. Martin Luther King Jr. He is the author of numerous spiritual classics, including: The Prophets, The Sabbath, Man is Not Alone, God in Search of Man, and The Earth is the Lord's.
Books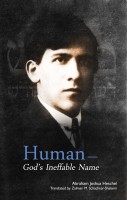 Human — God's Ineffable Name
by

Abraham Joshua Heschel
Although Abraham Joshua Heschel (1907-1972) is well-known today—as a philosopher, a Jewish theologian and a social activist—Heschel the poet is not. The 66 precious poems of Der Shem Ham'forash—Mentch, published in Warsaw in 1933, remained close to Heschel's heart all of his life, and are now available in a new translation by Rabbi Zalman Schachter-Shalomi.
Abraham Joshua Heschel's tag cloud