Realms of Varda
Publisher info
Realms of Varda publishes media in a shared setting. All novels, novellas, short stories and works of art take place in the same world - Varda - whether the farms of Zarubain, the moonlit city of Galiope, or the ice-blasted tundra of the Druen.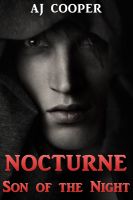 Nocturne, Son of the Night
by

AJ Cooper
(4.00)
Nocturne is an outsider. He sees humans as more than bloodmeals - something not well respected in Druen society. One winter night, his compassion gets the best of him when he kills his neighbor to save a human slave. Forced to flee his village and everything he's ever known, he begins a world-spanning journey in pursuit of his true home.
Realms of Varda's tag cloud