Realms of Varda
Publisher info
Realms of Varda publishes media in a shared setting. All novels, novellas, short stories and works of art take place in the same world - Varda - whether the farms of Zarubain, the moonlit city of Galiope, or the ice-blasted tundra of the Druen.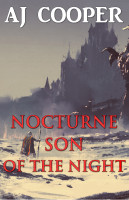 Nocturne, Son of the Night
by

AJ Cooper
(4.00)
Nocturne is an outsider. He sees humans as more than bloodmeals - something not well respected in Druen society. One winter night, his compassion gets the best of him when he kills his neighbor to save a human slave. Forced to flee his village and everything he's ever known, he begins a world-spanning journey in pursuit of his true home.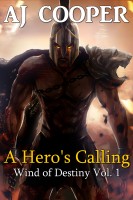 A Hero's Calling
by

AJ Cooper
(1.00)
In ancient times, the dark god Kronos crafted weapons of war in his fiery lair. His worshipers have been driven into hiding and yet he remains... Creatures of shadow are crawling through the land of Eloesus. Fiery clouds hover over the city of Thenai and infernal names unspoken in thousands of years thunder from the mountaintops. A wind of destiny is blowing. A hero is needed to answer the call.
Realms of Varda's tag cloud