A. J. Gaylord
Biography
A. J. Gaylord writes weird space romance about aliens, robots, cyborgs, and sex pollen, in as many gender combinations as feasible. When not writing, A. J. enjoys baking, reading fanfiction, and complaining about runway fashion.
Where to find A. J. Gaylord online
Books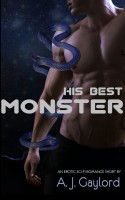 His Best Monster
by

A. J. Gaylord
Alex is a small-time pirate, smuggling tech and luxuries among the outer planets with his half-human lover, Moren, and their beautiful android companion. It's a good life, but there's still something missing — unless he can convince Moren to embrace his alien side, Alex will have to take matters into his own hands…. This 5000+ word scifi romance short contains adult situations.
A. J. Gaylord's tag cloud