Anna Kafra
Biography
Hey, there.

This is tougher than I thought. What can I write that's timeless, poignant and hilarious?

Anna Kafra is, of course, not my real name. It means "I'm a disbeliever" in Arabic. And it's wonderful to say out loud! Ana kafra!

I can't say it non-anonymously, because the punishment for leaving Islam is the death penalty. And you know what? Since leaving Islam, I'm not ready to die anymore.

I'm writing a book about it. Stay tuned.
Books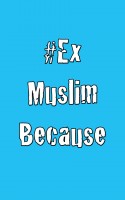 #ExMuslimBecause
by

Anna Kafra
How do you make a Muslim? It's pretty easy. You just have to get them young. How do you make an EX Muslim? That's tougher, and takes a lot of willpower. Here's how it happened to me.
Anna Kafra's tag cloud