AL Harlow
Biography
Al Harlow was born in 1963 and grew up on the streets of Norwalk California. After spending much of his younger years battling drug addiction - he finally broke free in 2002. He has been married since 2008 and has one son. He holds a Diploma and several Certifications in Psychology and continues to learn every day. Al is an artist, graphic artist, tattoo artist, writer and an addiction/life coach.

Al is also co-founder of the Adapt4Life Foundation. Adapt4Life is a non-profit organization working with homeless military veterans and civilians to get them off the street by teaching them the skills they need to succeed.
Books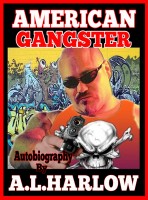 American Gangster
by

AL Harlow
Since the "War on Drugs" gave birth to the "Prison- Industrial Complex" in the 1970s, the American criminal justice system has become big business.
AL Harlow's tag cloud