Alexis Langsner
Biography
I have a BA from U of Maryland majoring in languages, early childhood education and writing and have taken many writing classes at AACC. I have been published in the AACC writer's journal, "Amaranth".I write short stories, creative non fiction, and some poetry as well as this my historical adventure/fantasy. I am also a member of the writer's group in Heritage Harbor, Md. I am also a retired children's Librarian and love to read mostly historical, science fiction and fantasy and any other genre for I am a lover of all books. For two years I lived in Ontario, Canada, then took up living as a snowbird in Dunedin, Florida and Annapolis, Maryland during the summer months. I have attended writers' conferences and many writer's festivals and readings and have traveled to Great Britain four times to enhance my research for my trilogy. I read the Poetic Edda, Beowulf and many other books involving the Arthurian tales and studied middle English. I have been a member of both the Kawartha Quilting Guild and the Annapolis Quilting Guild. I now make charity quilts for All Hallows church in Annapolis, Maryland. I paint draw walk, write and bike.I have been Married 48 years;have two daughters and three grandchildren. I am a member of the Annapolis Unitarian Universalist Church and the Unitarian Universalist congregation in Clearwater, Florida.
Books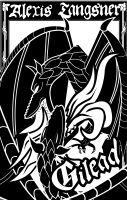 Gilead
by

Alexis Langsner
What went through the mind of the man who ascended to heaven with the grail in hand? Is that what really happened to the son of Lord Geraint when he and their fellow questers reached their final destination? Follow Lord Gilead's impressions and thoughts and his five companions including his father and the mysterious mage Myrddin through uncharted territory, unexpected surprises and even the land i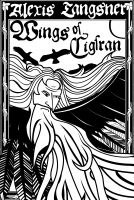 Wings of Cigfran
by

Alexis Langsner
Price:
$1.99 USD.
Words: 109,420.
Language: English.
Published: March 24, 2013
. Categories:
Fiction
»
Fantasy
»
Historical
Myrddin wants to record the finding of the grail. Those meant to find it,such as Lord Geraint,who now finds his true name less than satisfying, are not cooperating. Myrddin's daughter Angaharad cares not for the quest but only for the powerful Ogham stone that Myrddin has hidden where her dark magic cannot find it. Many try to beat her to it, but all will find more than they bargained for.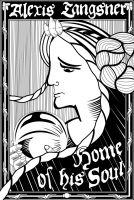 Home of his Soul
by

Alexis Langsner
Two men lie dead in the bedchamber of Lord Artus's wife. His Master of Horse, for reasons he cannot imagine, is running down the stronghold hill as a mysterious woman enters its gates with a gift. Dark caves, a lost memory and those who would hold him back threaten to stop his quest to find his true destiny, but his desperate search could also rob him of his soul.
Alexis Langsner's tag cloud