Alan Zoldan
Biography
Alan Zoldan is a work-at-home freelance copywriter who lives in Wesley Hills, NY, with his wife and several of his descendants He credits his mom, growing up in the Bronx in the sixties, his Jewish heritage, and heavy exposure to TV and movie comedies, iconic stand-up comedians, SNL, MAD magazine, Robert Crumb, HBO and Netflix comedy specials, YouTube, funny books and all his wise-ass friends for developing his comedy flair. And he also blames them for the very same thing. Alan deeply believes that this is the book America needs at this time.
Where to find Alan Zoldan online
Books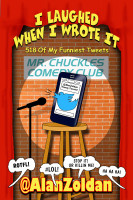 I Laughed When I Wrote It: 518 of My Funniest Tweets
by

Alan Zoldan
Alan Zoldan has always had a creative and comically gifted mind. Trouble was, his quips were abandoned as rapidly as they were conceived. And then came Twitter, which Alan used to record and preserve his original zingers and whimsical observations as they came to him.
Alan Zoldan's tag cloud