Alayna Carew
Biography
Throughout history, there have emerged "special ones", separate from the masses, whose collective souls were nurtured by the creative process. Artists, composers and writers whose masterpieces fueled legends, whose melodies and monologues made kings weep and wonder. Brave men and women who dared to place their dreams and desires upon papyrus and paper; the keepers of antiquity.

Alayna Carew desperately wanted to be a "special one"; a published author. To that end, she attended and graduated from Long Ridge Writer's Group, Writer's Digest's Novel Writing and Advanced Novel Writing courses. Those classes released her inner muse and that muse inspired her to study the medieval periods of Japanese and Chinese cultures, with an emphasis on courtesans and concubines.

Alayna authored the short stories, "The City on the Edge of Forever" and "The Antiquator's Folly".
Books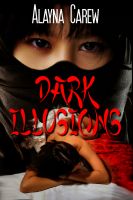 Dark Illusions
by

Alayna Carew
A merciless warlord murders Kiku's husband and destroys her fortress, plunging her into a life of sexual servitude in a silk-lined cell. In the harem, she fights the machinations of a love-struck eunuch intent upon transforming her into the whore the Nobunaga desires.
Alayna Carew's tag cloud