Alec Brewer
Biography
This is a non-fiction book explaining exactly the steps into how to "Make Cash Online With Amazon From Home - How to Make $30,000+ a Month on Amazon Realistically." I have in mind for the viewers to gain experience and knowledge about selling on Amazon and making a generic or private labeling business. All I want is for you to take notes and be on your way to having a successful business on Amazon. Selling on Amazon is one of the greatest opportunities out there. I want people who are devoted and realize it takes time to make such an income, it's not overnight, but these are the true steps to becoming rich on Amazon. I don't make promises or guarantees because it all depends on how much work you're willing to put in to make those numbers a reality. Follow everything I say in the book in order to see results. I know it's hard to stay positive and devoted, but you need support from others and to believe in yourself. Think of it as this is a WAY easier and better option then going to college for years, blowing tons of money, being in debt, hours of homework, no social life, no way to live life, and someday hoping to get a job that pays a fixed income a year with what a dollar raise every year? If you put your heart and soul into this you can make people that went to college look like total fools and idiots because they spent years and years making LESS money then you make. I promise you will see results with time, I can guarantee that as long as you have chosen the right product. If its been a really long time and you haven't seen any results then prove it to me, send pictures, documents, and everything proving yourself, then we can talk. Now stop reading, go buy my eBook, and get started now!
Where to find Alec Brewer online
Books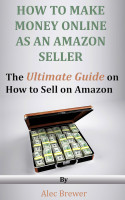 How to Make Money Online as an Amazon Seller - The Ultimate Guide on How to Sell on Amazon
by

Alec Brewer
How to make money online Amazon book! Step by step the ultimate guide on how to make money online at Amazon! Stop wasting your time in college and start with only a few hundred dollars. We cover finding a product & gated categories, retail arbitrage, private labeling vs generic selling, finding wholesaler, shipping, FBA vs FBM, building listing, pay per click & marketing outside Amazon.
Alec Brewer's tag cloud