Amanda C. Lee
Biography
Amanda C. Lee was born in Spokane, WA, but spent the majority of her childhood and adolescence in Northwest Louisiana. She has lived in five U.S. states (Washington, Arizona, Louisiana, Vermont, and Virginia), and spent two years in Mandeville, Jamaica. She is a proud alumna of Louisiana School for Math, Science and the Arts, a unique and remarkable residential high school in Natchitoches, LA. She achieved her Bachelor of Arts in Interdisciplinary Studies from Centenary College of Louisiana, and is a Returned Peace Corps Volunteer. She spent the time between undergrad and law school doing various administrative, teaching, and social work type jobs. She graduated from Vermont Law School in 2013, and was admitted to the Vermont Bar in October 2016. She currently works as an Associate Attorney in Vermont. She is also currently undergoing treatment for late-stage Lyme disease. When she is not working, she generally spends her free time reading, writing poetry, dabbling in art, and playing the occasional video game.
Books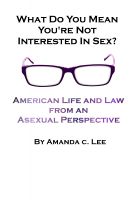 What Do You Mean You're Not Interested in Sex?: American Life and Law from an Asexual Perspective
by

Amanda C. Lee
Price: Free! Words: 10,520. Language: English. Published: October 26, 2013. Categories:
Essay
»
Sociology
,
Essay
»
Legal
(5.00)
An academic and personal exploration of asexuality and the asexual spectrum, this essay focuses on the complexities of human sexuality and sexual orientation and takes a look at how asexuality fits within the broad spectrum of human experience.
Amanda C. Lee's tag cloud