Alex Bates
Biography
Hello! my name is Alex i am 25 and i come from the UK. I have decided to make and publish some books generally just to help people. Maybe corny maybe cliche but its true. I base my books on experiences that i have had. Real life problems ive had to deal with or overcome. My first book is a helpful phrasebook or survival guide used to navigate around popular destinations in Europe. And yes there has been two occasions when i was travelling alone and something like what i have created really would of been a life saver for me. Once in Europe and once in Russia. Both times i struggled with transportation, customs and ordering food and drink etc. So one day i sat down and dug out several old books (and some content i had from my school days) containing 4 european languages and decided to create a handy little phrase book to get you out of the type of situations i encountered, i was certain other people would experience similar issues. I also suffered from anxiety when i was younger and really would love to write a self help book mainly aimed at guys (because well i am a guy and i am basing my books on real experiences). So as an author that really is my story i want to write clear and bs free helpful guides and books for people with no fluff content. Hopefully it might help some people out there.
So as a person i am the classic Englishman i enjoy watching football (soccer) drinking tea and playing golf (very english). Always had a passion for writing although i loved fantasy and wrote small books as a young teenager i think i am better suited writing factual, informational books because to put it mildly... them books were rubbish! Just a small insight into what i am about really and why i am here. I hope everybody enjoys the material i am making i work hard to make it authentic and above all simple and fluff free. Thanks.
Books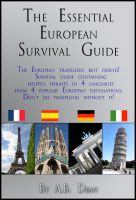 The Essential European Survival Guide
by

Alex Bates
Price:
$4.99 USD.
Words: 13,920. Language: English. Published: November 23, 2011. Categories:
Nonfiction
»
Travel
»
By region
The European Travelers best friend! Have you ever been in a situation where you were in a foreign country and came across a problem? Perhaps at the airport or train station? The Essential European Survival Guide is a phrase book containing hundreds of key phrases to help you avoid potential problems when travelling to four popular destinations in Europe. Completely "fluff free" key phrases.
Alex Bates' tag cloud