Alex Castleton
Alex Castleton is a nom de plume of Phania Moles who was born in Alexandria Egypt, of Greek parents who had to flee the ancient Byzantine centre of Greek civilisation in Anatolia (then part of the Ottoman Empire) after the disastrous failure of Venizelos's military adventurism against Mustapha Kemal Ataturk's emergent Turkey.
The author was brought up in Alexandria and educated in Greek schools where she acquired fluency in French, Arabic and English in addition to her native Greek – until her family was again forced to uproot itself following the Egyptian nationalist revolution in 1957. She went to the U.S. to further her studies and there she met her husband-to-be. He was a postgraduate student at the University of Minnesota in Minneapolis.
After their marriage the couple settled in Townsville in the tropical north of Australia, and Phania became a naturalised Australian citizen. Both pursued teaching careers and also collaborated in writing, several works of an academic character being published by Rutgers University Press, New Jersey.
Alex Castleton simultaneously pursued her separate interests in the writing fiction, however the demands of full-time teaching and bringing up a family meant that her writing was for a long time consigned to the bottom drawers of her study desk.

No Passion in the Mind is her first novel, the title taken from one of Francis Bacon's essays, "On Death".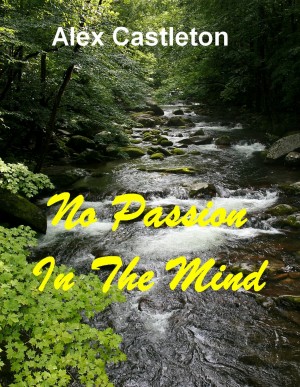 No Passion in the Mind
by

Alex Castleton
He was the man of every woman's dreams. Two women loved him. He loved them back. Yet they rejected him. The Greek-born family matriarch is determined to marry off her grandson and heir to a woman of her own choice. He is torn between a "traditional" sense of loyalty to family and a more "modern" conception of love and marriage. Twice, his prospective brides have their own agendas first for accepti