Alex Lawson
Biography
Enduring being stalked for many years, she became ill and depressed. There was nothing the police or anyone could do unless he harmed her. Feeling totally alone, she was living in a damp dark basement bedsit due to poor life choices. In order to get away from the from her depressing surroundings she began to visit the library in the city centre, there the idea for the book was born, . She began to write with no confidence at all. However, she wrote one paragraph at a time. She did not stop until she was happy with the book. This is a true story of triumph over adversity. Or obviously it can be written in the first person, I will go with whatever you suggest.
Where to buy in print
Books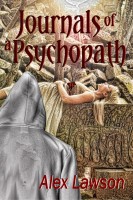 Journals of a Psychopath
by

Alex Lawson
Clarkson Samuel is a ruthless and cruel psychopath he is tormented. His hatred of silvery-blonde haired women grew from his abhorrence to his mother. Clarkson Samuel was raped, knifed, and brutalized by his mother when he was young. It defined him and Clarkson's punishment of silvery-blonde haired women was born.
Alex Lawson's tag cloud