Alex Mathew
Biography
A former banker by profession, Alex Mathew was blessed with a good handwriting. His theory was that even if one person could write well, why couldn't the others? He studied his own handwriting and came to the conclusion that people who have good handwriting follow certain rules naturally while others don't and if these rules could be taught to people then their handwriting would also improve. Students could benefit a lot as good handwriting would help them to score more marks in exams.My goal is to help you achieve your dream of improving your handwriting in the shortest possible time by explaining it in the least number of words. That according to me is success and I have been able to do it in just 1450 words. Hope you enjoy reading this book and change the way you write for the rest of your life. Regards and happy writing!
Books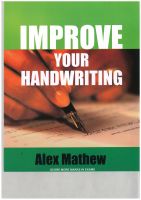 Improve Your Handwriting
by

Alex Mathew
(3.00)
The written word is as important as the spoken word for communication. However, many people are ashamed of the way they write. They try to hide their handwriting. Spare a few minutes and change the way you write in the days, months and years ahead. You may be young or old, but irrespective of your age this ebook is sure to bring a smile on your face the next time you write.
Alex Mathew's tag cloud