Alex Stuart
Biography
I'm a storyteller. I've always been one since I was a little kid. Okay... I'll admit that some of the stories I told my parents as a teenager didn't go over so well, but most of my stories have been well-received. Truth be told, I didn't start off writing gay erotica. I kind of stumbled into it, and when I discovered that I enjoy writing "naughty" stories, and that people enjoy reading the stories I write, things just took off. I hope you enjoy reading my work as much as I enjoy writing it!
Books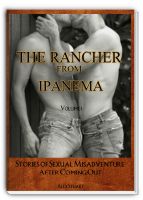 The Rancher From Ipanema: Stories of Sexual Misadventure After Coming Out
by

Alex Stuart
Have you ever wondered what happens when a gay man is raised in a deeply religious, conservative community, and then he moves away? These are the true stories of one such man. His adventures - or misadventures - of romance, seduction, and his search for the perfect hookup are shared in this anthology of short stories that will make you laugh, cry, or look for a cold shower.
Alex Stuart's tag cloud