Alex Woolf
Biography
Alex Woolf was born in London in 1964. After reading History and Politics at university, he became a non-fiction editor. Since 2001, he has been a full-time writer of fiction and non-fiction, mainly for young people, and has had over sixty titles published in various languages, including books on spiders, Nazis, asteroid strikes, ghosts, aliens and much else besides. His recent fiction includes Chronosphere, a time-warping sci-fi trilogy, Aldo Moon, featuring a teenage Victorian ghost-hunter, and Soul Shadows, a horror novel about cannibalistic shadows. His longest book to date is a 300-page history of the world. Woolf has also written numerous short stories, which have been published in journals including Sirens Call, Leafing Through, Words Undone, Writers Billboard and Strange Circle. He lives in Southgate, North London, with his wife and two children.
Books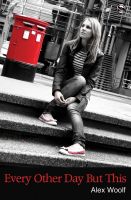 Every Other Day But This
by

Alex Woolf
Elsa goes out one afternoon to post a letter. She knows she mustn't be long. But before she can return home, things start to spin out of control. It all begins when she decides to help an old lady. One thing leads to another and soon she's lost and far from home. As her chaotic journey through London unfolds, Elsa is forced to confront some pretty uncomfortable facts about her life and marriage.
Alex Woolf's tag cloud