Alfredo Gómez Muller
Biography
(Colombia) Profesor de Estudios Latinoamericanos y de Filosofía en la Universidad François-Rabelais de Tours, Francia.
Miembro de los Grupos de Investigación Interacciones Culturales y Discursivas (ICD, Tours) y Teoría Política Contemporánea (TEOPOCO) de la Facultad de Derecho, Ciencias Políticas y Sociales, de la Universidad Nacional de Colombia; miembro fundador y antiguo Director del Laboratorio de Antropología y Filosofía Práctica (LANPRAT), de la Facultad de Filosofía de la Universidad Católica de Paris (ICP).
Es autor de numerosas obras en los campos de la ética y la filosofía política, entre las que se destacan: Anarquismo y anarcosindicalismo en América Latina (Medellín, 2009), La reconstrucción de Colombia. Escritos políticos (Medellín, 2008), Sartre, de la Náusea al compromiso (Bogotá, 2008), Ética, coexistencia y sentido (Bogotá, 2003); Alteridad y ética desde el descubrimiento de América (Madrid, 1997). Por otra parte, ha dirigido o codirigido obras como Anarquismo: Lo Político y la antipolítica (Bogotá, 2014), Constructions de l'imaginaire national en Amérique Latine (Tours, 2012) y Politics of Culture and the Spirit of Critique: Dialogues (New York, 2011).
Books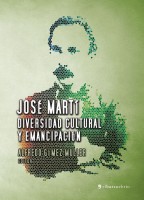 José Martí. Diversidad cultural y emancipación
by

Alfredo Gómez Muller
Los cuatro estudios que componen este libro abordan, desde perspectivas diversas —y a veces opuestas—, los aportes y/o los límites del pensamiento emancipador martiano sobre la nación, la cultura y la diversidad cultural y étnica.
Alfredo Gómez Muller's tag cloud