Alia Macrina Heise, IBCLC
Biography
Alia Macrina Heise, IBCLC has been working in the field of lactation since 2004. Her most notable publication, D-MER: A Case Study, was co-authored with Diane Wiessinger and appeared in the International Breastfeeding Journal. Alia is considered to be the first authority on dysphoric milk ejection reflex and she has been speaking about D-MER since it was first named and defined in 2008. Not only a former sufferer of the lactation anomaly herself, she is also the webmaster of d-mer.org and an active author and speaker on the subject. She works closely with mothers around the world who are suffering from the condition in order to support them and to better understand the variance of the experience. She is also in frequent contact with other professionals in order to spread awareness and to support further research and investigation into the subject. Outside of her work with D-MER, she is also in private practice as an IBCLC in the Finger Lakes region of New York. She lives in a small rural town where she enjoys country living with her three children.
Where to find Alia Macrina Heise, IBCLC online
Books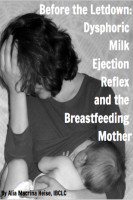 Before The Letdown: Dysphoric Milk Ejection Reflex and the Breastfeeding Mother
by

Alia Macrina Heise, IBCLC
Before The Letdown is eleven chapters of information for mothers looking for support and understanding, for care providers who want to know how to best support their patients and for partners and family members who want to know how to best support a mother with D-MER.
Alia Macrina Heise, IBCLC's tag cloud