Kausar Ali
Biography
I am a Textile Technologist with an M.Tech. from IIT Delhi. With more than a decade of experience handling various challenging assignments in India and overseas, I am presently dedicated to Training and Project Management Consultancy Services related to Human Resource Development, Environment Management, Global Warming and Business Process Enhancements.
Books
Deen - Virtuous Living
by

Kausar Ali
The Deen is an Arabic word. It is precisely all about Principles of Virtuous Living. The book provides the framework of principles defining actions as mark and manifestation of personality characteristics and performance attributes. It is must read for all those wish to see themselves as Personalities worthy of reward and appreciation as well as to learn about pitfalls leading to failure.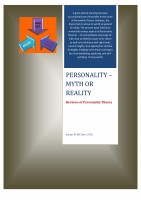 PERSONALITY - REALITY OR MYTH
by

Kausar Ali
The Personality Theory of Managements with all its promises and expectations fail to perform on filed. The book attempts to review progresses in the field of Personality Theory as well as its limitations. It also updates and enriches so as to ensure theory enabling to explain Personality Behaviour and anticipated outcomes.
Kausar Ali's tag cloud