Alina Renard
Biography
Hello all! I'm a bit new to all this. I'm a paranormal romance junkie, animal lover, chocoholic, and crafter extraordinaire. Currently, I'm a part time writer and on the California coast with my dog. I love the journey a new book presents and am often found lost within the pages of 2 or 3 (or more) different worlds at a time. I would love to hear from you! I can be reached at: author.alinarenard@gmail.com.

I often gravitate to author's: Christine Feehan, Airsick Pheonix, J. Daniels, and many others.

Happy reading!
Books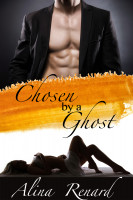 Chosen By A Ghost
by

Alina Renard
Born with a gift that is judged by some as miraculous and by others as demonic, Anya's spent most of her life trying to blend in and appear normal. But her secret is out. And a group of scientists will do anything to get their hands on her. D'angelo Goretti was raised to be both spy and killer. Born with the ability to become a ghost, he's baffled when a Anya can see his spirit.
Alina Renard's tag cloud