Allen Morris Jones
Biography
Author of an acclaimed novel, "Last Year's River" (Houghton Mifflin), a highly influential consideration of the ethics of hunting, "A Quiet Place of Violence," and co-editor, with William Kittredge, of "The Best of Montana's Short Fiction," Allen Morris Jones (1970 - ) is also the author of more than one hundred published short stories, articles, essays, and poems. During his twenty-year career in publishing, he has worked as Editor of the magazine "Big Sky Journal," as acquisitions editor for the Lyons Press, and as publishing consultant through his own business, www.manuscriptmedics.com. He has appeared on the Jim Lehrer NewsHour as a guest essayist, lectured to the Outdoor Writer's Association of America, and seen rave reviews of his work appear on "The Today Show" and in the "LA Times," "People" magazine, "Publisher's Weekly," "Booklist," and many others. He lives in Montana with his wife and young son.
Where to find Allen Morris Jones online
Books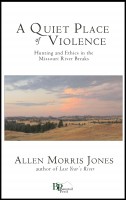 A Quiet Place of Violence: Hunting and Ethics in the Missouri River Breaks
by

Allen Morris Jones
In this landmark work, Allen Morris Jones spends a year exploring one of the wildest ecosystems in North America, hunting and examining the philosophical issues of blood sport. In the process, he creates both a compelling defense for the hunt as well as one of the tradition's first formal ethics.
Allen Morris Jones' tag cloud