Mountain Springs House mspringspub@gmail.com
Publisher info
Welcome to Mountain Springs House, where a little bit of literary heaven awaits you. We offer authors a personalized publishing experience with a staff that truly cares about you. Mountain Springs was founded by best-selling author, Allison Bruning and her husband, Delfin Espinosa, with the goal of providing top quality service to new and established authors. Our highly qualified staff have years of publishing experience and will take the greatest care in helping you to achieve your literary dreams.
Where to find Mountain Springs House mspringspub@gmail.com online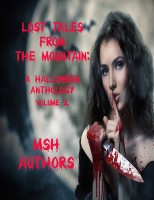 Lost Tales from the Mountain (A Halloween Anthology: Vol. 2)
All Hallows' Eve is a time for stories, when fear and imagination make all our ghosts real. From the monsters that stalk us in the dead of night, to the dank depths of our own souls where our greatest enemies linger, there is no place too dark to shine a light on. It is up to the reader, then, to dare to look, and see with eyes unclouded.
Mountain Springs House mspringspub@gmail.com's tag cloud