Andre Lodree
Biography
Andre Lodree Jr. was born to two young & loving parents, Patricia Bassett & André Lodrée Sr. in Chicago, Illinois. Although, they never married their amicable relationship allowed for him to have a relationship with both his parents. At the age of four, with his blessing his mother married his stepfather Lenin Bassett Sr. His home life was centered on faith in God & the unity & trust of their family of ten. Early on it was evident that he had two loves basketball & education. As an assignment from his senior year English teacher, he wrote his first poem that was included in the school journal. It is here that he discovered a platform to express his feelings & thoughts. He earned a bachelor's degree in theology from Dominican University. He is married to a virtuous woman and they have three children. They currently reside in Broadview, IL. Since that first poem as a senior in high school, he has written many poems & songs in obscurity that discusses parenthood, relationships, marriage, family, society, God and much more. With love and encouragement from his wife, he has been inspired to release part of his poetry memoir in his first copy written & self-published book – Lost & Found.
Where to find Andre Lodree online
Books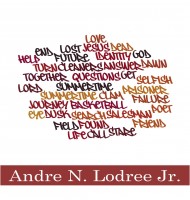 Lost & Found
by

Andre Lodree
Lost & Found is a collection of poems & songs that surrounds life's growing pains. Lost, deals with the fumbling of a young man trying to find his way in a world filled with desire, immorality, capitalism, self-doubt & much more. Found, displays the young man coming to grips with the mistakes he's made in life & re-discovering himself through faith in God & the love of God.
Andre Lodree's tag cloud