Alok Shukla
Biography
DR ALOK SHUKLA is a surgeon and serving IAS officer. He was educated at Pt. J.N.M. Medical College, Raipur. Following a distinguished academic career, he joined the IAS, serving as Collector at Shivpuri and Sagar, in Madhya Pradesh, and Secretary in the departments of Health, Education, Revenue, Disaster Management and Food. His contributions to elementary education and public health have been highly acclaimed. In recognition of his work in computerising paddy procurement and PDS in Chhattisgarh, he received the Prime Minister's Award for Excellence in Administration (2010), the highest award given to bureaucrats in India.

Between the years 2009-2014, Alok served as Deputy Election Commissioner, seeing at first hand two national and several state elections. With his deep understanding of electoral systems, he served as an International Observer at elections in Egypt, Venezuela and Australia, and led a mission to develop electoral systems in the Maldives.
Books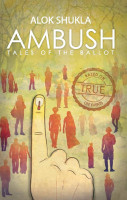 Ambush Tales of the Ballot
by

Alok Shukla
A book every Indian who values their freedom should read with pride. This riveting collection of short stories is based on true life incidents. The canvas is the incredible phenomenon that is Indian electoral politics. The success of electoral democracy in a poor, underdeveloped nation which laboured for centuries under foreign rule is nothing less than a miracle.