Alpha Visions
Biography
Being a young woman, I am already fighting a battle against me. I am 30 years old and handicapped. I have been told my whole life of what I cannot do. I am living proof that no matter what people believe, if you believe in yourself you can overcome any and anything. I have been sick all of my life. I have been battling a rare disease called Devic's Syndrome which is a very rare disease that cause blindness and temporary paralysis in my legs and arms. This resulted in two more outer immune diseases: Lupus (SLE) and pulmonary hypertension, and fibromyalgia. In the midst of fighting all of these health battles, I have graduated from college, started my own business, and am helping people start their own businesses by preparing their business plans and proposals. I feel that everything that I have done has defied all odds. This is because I never looked at giving in as an option. I have endured so much adversity and yet continues to persevere. I feel I embody all of the values, principles and character traits that people look for in potential business partner. I am hard-working, dedicated to my craft, and completely committed to putting a smile on every single client's face. I wanted to share the business side of things in a easy and small way by writing this eBook to explain and layout the different types of businesses, the importance and the parts of a business plan, if you need help the consultant and signs to look for, and the do's and don'ts of business. so get this book today so you can make your dream a reality on the right foot.
Smashwords Interview
Books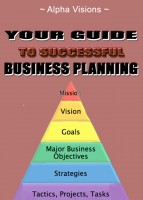 Your Guide To Successful Business Planning
by

Alpha Visions
Poor Business Planning Can Cost You Thousands of Dollars and Time You'll Never Get Back. The intricacies of planning a successful business vary for each type of business. This book details some of the most successful business models to get into while learning from other highly successful businesses and their business plans.
Alpha Visions' tag cloud