H. Dennis Chandel
Biography
ABOUT THE AUTHOR
H. DENNIS CHANDEL:
A Graduate of Simon Fraser University in Burnaby, Canada; was a Former Elementary and High School Teacher / University Professor and as a Private Investigator did much work as an Undercover Agent.

THE INSPIRATION FOR THIS BOOK

It was May, 2010. I had just arrived at the airport in Frankfurt, Germany from Kiev, Ukraine to find that my flight to Toronto was cancelled until the next day due to volcanic ash in the air. I met up with two other men in the same predicament, in a nearby bar. Abbey, short for Abdullah, was returning home to Beirut, Lebanon to attend his brother's funeral and Boris from Moscow was on his way to Chicago.
After too many vodkas, Abbey, who was a non-believer, began to unravel an incredible story. He stated that the old guard in al-Qaeda was being pushed out by a younger generation; better educated, more worldly and sophisticated. This second generation was intent on driving the West from all Muslim lands and eventually establishing a new world order with Islam not America as the new driving force. Abbey predicted that within two years Osama bin Laden would be killed. Hints as to the whereabouts of bin Laden would be dropped to the Americans so they could do the dirty work and kill him. Osama bin Laden had become a liability to the very organization he had created. Further, there would be uprisings in many Islamic countries and dictators would be toppled. The M.O., modus operandi, of al-Qaeda would change drastically.
It was when these predictions began to come true, that I realized this boy had some insight into the murky world of terrorism and it inspired me to write this book, THE AL-QAEDA PROPHET AND THE SECOND GENERATION.
Books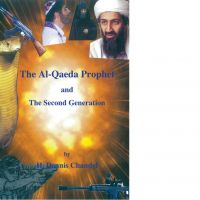 The Al-Qaeda Prophet and The Second Generation
by

H. Dennis Chandel
On the death of Osama bin Laden, one of his illegimate sons, takes over the organization. Shrewd & cunning & above all highly intelligent he brings to America 12 highly disciplined, highly trained disciples. These disciples create chaos throughout America using small explosives & hit & run tactics. Daniel Boss, a former undercover agent, becomes involved and finally brings brings them to justice.
H. Dennis Chandel's tag cloud