Boran Altincicek
Biography
Dr. rer. nat. habil. Boran Altincicek has been graduated from the University of Gießen in Germany. During preparing his Ph.D. thesis in Biology, he and his colleagues co-founded a biotech research spin-off company (Jomaa Pharmaka GmbH). Multidisciplinary research in host-pathogen-interactions and immunology, writing of patents and scientific publications were part of his work. After two years as Post-doc at the Institute of Biochemistry in Gießen, he took the opportunity to lead a research group and to investigate molecular adaptation of diverse insects to pathogens and the phenotypic plasticity and evolution of the insect immunity at the Institute of Phytopathology and Applied Zoology. Self-dependent teaching, own third-party funding, and numerous publications in international scientific journals resulted in his German "Habilitation" in the year 2009. Then, funded by the German Research Foundation-DFG with the Heisenberg fellowship in Zoology, he got the opportunity to work on insect ecology and evolution as a Visiting Scientist and Lecturer with Professor Nicole Gerardo at the Emory University in Atlanta, GA, USA. Prior to his current working as freelancer and consultant in Lilongwe Malawi (Africa) he was "Privatdozent" (equivalent to Assoc. Professor) in Zoology and Ecology at the Agricultural Faculty of the University of Bonn, Germany.
Where to find Boran Altincicek online
Books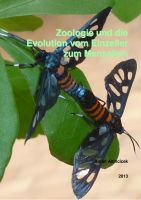 Zoologie und die Evolution vom Einzeller zum Menschen
by

Boran Altincicek
Dieses Buch gibt auf 45 Seiten mit 29 Abbildungen einen aktuellen und leicht verständlichen Abriss der Zoologie startend von Einzellern bis hin zum Menschen. Ziel dieses Werkes ist die Vermittlung eines Grundverständnisses der Zoologie, der aktuellen, aber sich stets wandelnden Sichtweise der Verwandtschaft der Tiere und wichtiger evolutionärer Entwicklungen.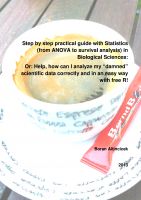 Step by step practical guide with Statistics (from ANOVA to survival analysis) in Biological Sciences: Or: Help, how can I analyze my "damned" scientific data correctly and in an easy way with free R!
by

Boran Altincicek
Many scientists and students are asking for advice in statistical analyses during preparation of their publications or theses. This book aims to address these needs by representing a "recipe book" for statistical analysis in biological sciences. The content of this book will enable everyone to perform high-quality statistical analyses and to produce publication-quality graphics with free R!
Boran Altincicek's tag cloud