Amarpreet Bhamra
Biography
Amarpreet Bhamra is a self-motivated and self-driven business process management professional with 17 years of rich multi-cultural work experience in Professional Services, Logistics and Supply Chain, Telecom, Financial Services, e-Learning and Media verticals. He has spent the past 6 years in leading and delivering transformation programs/ improvement projects with sizable business impact in Finance & Accounts, Procurement, HR Services, IT Services and Brand and Marketing Communications for large shared service centers.
A result driven professional and adept in managing P&L line of business for service delivery, Amarpreet has championed and delivered exceptional client service for customers and stakeholders. He has extensive experience in leading and developing high performing teams, providing leadership in challenging situations and proven ability in learning and adapting to new technological interventions.
Throughout his tenure, Amarpreet has built a reputation for executing on business productivity, enhancing customer satisfaction, increasing Net Promoter Score, sustaining service levels and business continuity plans, improving service quality, reducing on account, increasing net collectibles and strengthening global compliance. For his contributions he has been recipient of several customer, leadership and team awards for service delivery and customer experience.
He has completed an Executive Program in Leadership and Management (Indian Institute Of Management-Calcutta, grade-Excellent), holds two post-graduate degrees in Mass Communication (University of Hyderabad, grade-First) and English (Panjab University, grade-Second) and an Advanced Diploma in Financial Management (Indian School of Business Management & Administration, grade-First). Amarpreet also holds certifications in Lean Six Sigma from Anexas Consultancy SE and General Electric, Internal Assessor from TATA Management Training Center and Quality Management Systems (ISO 9001:2008) from TUV SUD South Asia. He has held leadership positions (mid-level) in shared service centers and third party service providers in Finance & Accounts, Procurement, HR Services, IT Services, Customer Support, Collections, e-learning, Technical Support, Collections, Brand and Marketing Communications, Payments for global / multinational organizations.
Amarpreet has 25+ publications on shared services, outsourcing, offshoring, Six Sigma etc. in Shared Services Outsourcing Network, American Society of Quality Journal, LinkedIn and Coaching Confidence. He presently lives and works in Bengaluru with his family.
Books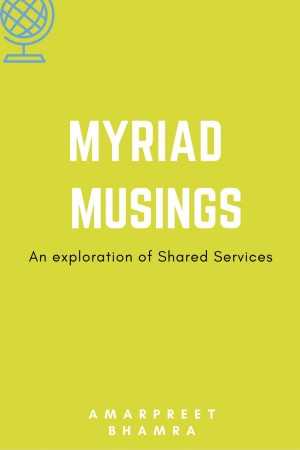 Myriad Musings (An Exploration Of Shared Services)
by

Amarpreet Bhamra
This e-Book is a compilation of my articles on various facets of shared services. My idea of publishing this e-Book is to connect with a wider set of readers and inculcate awareness on shifts and trends which may re-define the artifacts of shared services.
Amarpreet Bhamra's tag cloud